Archives Update: James P. Goss papers finding aid now available online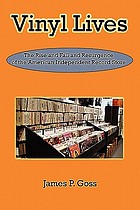 Another archival collection has been processed and is now available: the James P. Goss papers. These materials were created and/or compiled by author James Goss over the course of writing two books: Vinyl Lives I: The Rise and Fall and Resurgence of the American Independent Record Store (2010) and Vinyl Lives II: More Record Stores and Record Collectors (2013).
Goss was born in Salem, Massachusetts in 1954 and was raised in South Florida. He has written for Elmore Magazine and The Audiophile Voice, and his work has also appeared in Wood & Steel and San Francisco. His book Pop Culture Florida (2000) details the histories of various Florida-based musicians.
Unpublished materials in this manuscript collection include the author's research files: interview outlines and questions, handwritten chapter outlines, handwritten interview transcripts, project notes, biographical information, correspondence, and interview recordings (30-60 minutes each). Published materials include copies of both books and an article written by Goss.
As a reminder, archival materials do not circulate but may be accessed by appointment on-site at the Stan Getz Library (Monday through Friday 9 a.m. to 5 p.m., with evening hours available upon request). To access this collection, please contact the college archivist at archives@berklee.edu or 617-747-8001.
This collection was processed with support from a grant from the National Historical Publications and Records Commission (NHPRC).